Record Keeping (IIAR 6, Part 8)
ANSI/IIAR 6-2019 §5.3 summarizes minimum requirements for ITM Program record keeping. Most of the items listed parallel an existing Process Safety Information (PSI) requirement in the PSM regulations (Title 8 CCR §5189(d) and Title 29 CFR §1910.119(d)). The table below compares the requirements of IIAR 6 to PSM: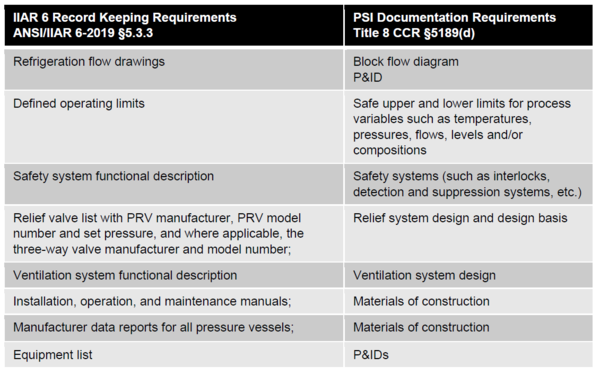 Operational log (used to transfer information between operators)In addition to the items listed in the table above, §5.3.6 lists additional "system records" that must be maintained:
Secondary coolant records (type of fluid, quantity added/removed, freeze point, specific gravity, etc.)
Ammonia refrigerant records (sample location, sample size, color, contamination measured, etc.)
Oil log (type of oil, amount in the system, quantity added/removed, etc.)
Lubrication log (type of lubrication, quantity required, amount of lubrication added)
Relief valve records (associated equipment, date of installation, etc.)
How long do you need to keep ammonia refrigeration records?
Table 5.3.7 lays out the minimum retention period for refrigeration system records: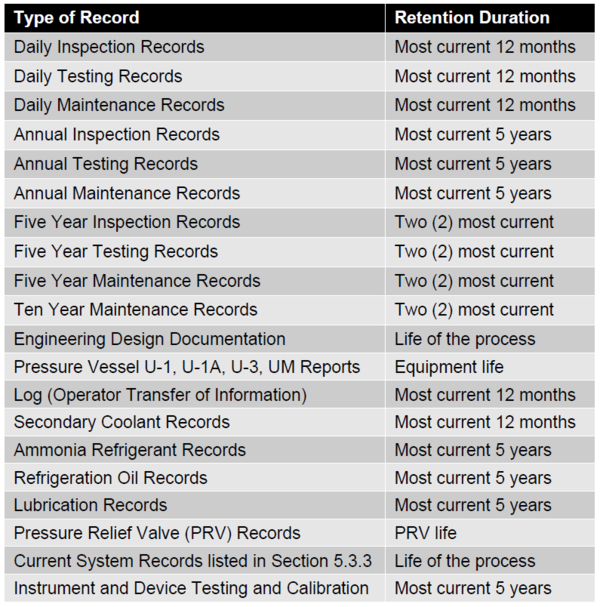 ---
This is Part 8 of a series on IIAR 6. You can access previous blogs in this series below: