IIAR 6 Overview (IIAR 6, Part 2)
Similar to other IIAR standards, ANSI/IIAR 6 Standard for Inspection, Testing, and Maintenance of Closed-Circuit Ammonia Refrigeration Systems is divided into several Parts, with each Part containing multiple Chapters or Appendices. Parts 1-2 are normative, indicating that the content in these sections is mandatory. Part 3 is informative and therefore intended to be descriptive and non-binding. In the normative chapters you will notice obligatory words such as must, shall, and will. By contrast, the informative appendices utilize optional phrases such as should, may, and can. The authors of the standard selected words carefully and the placement of material in normative versus informative sections was by no accident.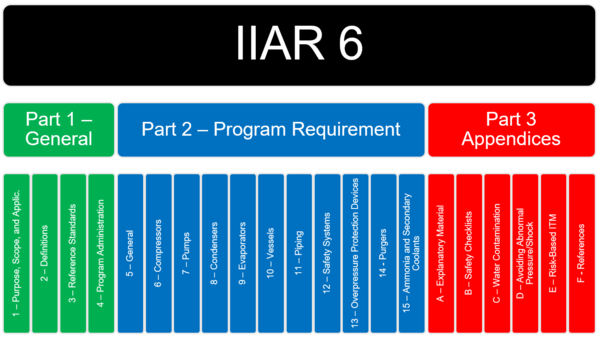 Part 1 is titled General and lays the foundation of the document by addressing the Purpose, Scope, and Applicability (Chapter 1), Definitions (Chapter 2), Reference Standards (Chapter 3), and Program Administration (Chapter 4).
Part 2 is titled Program Requirement and includes chapters that prescribe the minimum inspection, testing, and maintenance (ITM) requirements for various types of equipment. Chapter 5 (General) contains fundamental material regarding documentation, frequency requirements, and retention of records. This information is regularly referenced in remaining chapters of Part 2:
Compressors (Chapter 6)
Condensers (Chapter 7)
Refrigerant Pumps (Chapter 8)
Evaporators (Chapter 9)
Pressure Vessels (Chapter 10)
Piping (Chapter 11)
Safety Systems (Chapter 12)
Overpressure Protection Devices (Chapter 13)
Purgers (Chapter 14)
Ammonia Refrigerant and Secondary Coolants (Chapter 15)
Part 3 is composed of informative appendices. Appendix A "Explanatory Material" contains helpful commentary on many of the normative requirements from Chapters 1-15. Appendix B contains safety checklists that are comparable to what had been previously published in IIAR Bulletin No. 109. The checklists have been modified in a variety of ways to better serve our industry. Appendices C-F contain additional informative content regarding water contamination, hydraulic shock, risk-based ITM, and non-mandatory reference standards.
---
This is Part 2 of a series on IIAR 6. You can access previous blogs in this series below: