Can Ammonia Pipes Be Welded to Their Supports?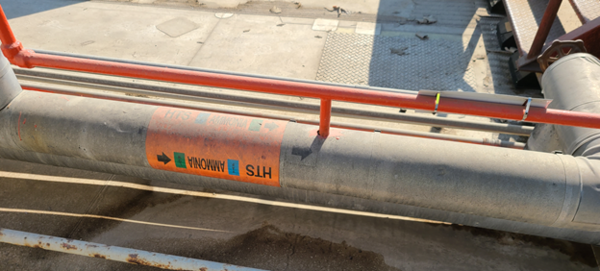 We recently published a blog addressing various aspects of ANSI/IIAR 4-2020. On the topic of pipe supports, Standard 4 introduces a prohibition that was not previously included in the 2015 edition. ANSI/IIAR 4-2020 §6.1.2 requires that "Piping support systems shall be installed to retain pipe within the support. Pipe shall not be welded to supports except where permitted by ASME B31.5."
ASME B31.5-2019 does not directly address the issue of welding pipes to their supports. §521.1.3 states "Restraints, such as anchors and guides, shall be provided where necessary to control movement or to direct expansion and/or other effects into those portions of the system that are adequate to absorb them for the purpose of protecting terminal equipment and/or other (weaker) portions of the system. The effect of friction in other supports of the system shall be considered in the design of such anchors and guides."
A variation of this issue is supporting one pipe from another as depicted in the image above. This also is prohibited in ANSI/MSS SP-58-2018 (this document is the basis for IIAR's pipe support frequencies in Standard 2 Appendix F). §6.13 requires that "Pipes shall not be suspended directly from each other unless formal calculations are performed and accepted by the responsible Piping Design Engineer. If no calculations have been made, the individual hanger for each horizontal pipe in a vertical bank shall have the load transmitted directly to the rods, not the pipe above. Care shall be taken to size the rod appropriately for the total load at the support point."
To summarize, it is ill advised to restrain a pipe by welding it to a support or by attaching it to another pipe unless an engineer approves such an arrangement.