Differences Between IIAR Standards 2 and 9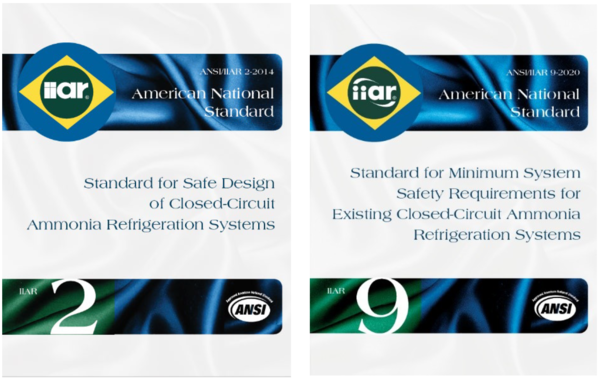 Earlier this year, IIAR published ANSI/IIAR 9-2020 Standard for Minimum System Safety Requirements for Existing Closed-Circuit Ammonia Refrigeration Systems. While it has long been recognized that new systems must adhere to the requirements of IIAR Standards 2 and 4, facilities with existing systems have often been confused on how they should relate to these standards. Standard 9 was written to provide clarity on the minimum requirements for existing systems, regardless of age. We recently posted a video series which provides a summary of the content in Standard 9, but wanted to add a final blog to summarize differences between ANSI/IIAR 2-2014 Addendum A and ANSI/IIAR 9-2020. The list below provides a summary of notable differences between the standards which ammonia refrigeration industry stakeholders should be aware of:
IIAR 2 §4.2.3 allows certain equipment (evaporators, condensers, low-probability pumps, valves, etc.) to be installed outside machinery rooms in industrial IIAR 9 §7.1.2 allows the same equipment to be installed in any indoor area, regardless of occupancy.
IIAR 2 §5.5.3 requires the minimum design pressure of the low-pressure side of the system to be 250 psig. IIAR 9 §7.2.2.1 allows for a minimum low-side design pressure of 150 psig.
IIAR 2 §5.14.5 requires all equipment to be supplied with a nameplate. IIAR 9 does not include requirements for nameplates.
IIAR 2 §5.15 requires emergency shutdown documentation to be readily accessible and include, among other things, the system field test pressure applied. IIAR 9 §7.2.10 has similar emergency shutdown documentation requirements, but does not require the inclusion of field test pressure that was applied.
IIAR 2 §6.8.1 requires machinery rooms to be designated as not less than Class 1, Division 2, Group D Hazardous (Classified Location) when emergency ventilation is not installed. IIAR 9 has no such requirement.
IIAR 2 §6.11.2 requires manual control of machinery room lighting. IIAR 9 does not address the control of machinery room lighting.
IIAR 2 §6.13.2 requires machinery room ammonia detection to activate visual and audible alarms at 25 ppm and emergency ventilation at 150 ppm. IIAR 9 §7.3.12.2 requires setpoints of 50 ppm and 1,000 ppm respectively.
IIAR 2 §7.2.3 requires ammonia detection to be installed in areas "other than machinery rooms" when ammonia equipment is installed indoors. IIAR 9 does not require detection outside of a machinery room.
IIAR 2 §6.14 specifies the required machinery room ventilation airflow rate for occupancy (0.5 cfm/ft2 or 20 cfm, whichever is greater), temperature control (limit room temperature to 104ºF), and emergency ventilation (30 air changes per hour). IIAR 9 §7.3.13.2 requires that the ventilation rate comply with the codes and standards at the time of construction.
IIAR 2 §6.14.3 requires that machinery room exhaust be to the outdoors not less than 20 ft from a property line or building opening at a velocity of at least 2,500 ft/min. IIAR 9 does not include these requirements.
IIAR 2 §15 includes numerous relief valve requirements such as capacity determination (§15.3.8) and allowable length of discharge piping (§15.5.1.1). IIAR 9 does not specify how to determine relief valve capacity or how to size discharge piping.
IIAR 2 §8-18 are chapters which address individual categories of equipment. IIAR does not have equipment-specific chapters and has included all minimum system safety requirements in Chapter 7.